ALMA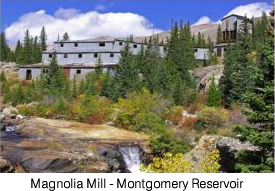 Incorporated in 1873 after the discovery of rich silver ore in the Mosquito Range, the mountain community of Alma offers visitors many sites that reflect the early mining pioneer days, natural beauty, and recreation opportunties.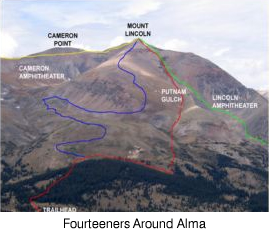 At an elevation of 10,578 feet above sea level, Alma holds the distinction of being the highest incorporated municipality in North America. Worthwhile places to visit in the Alma area include the following:
Listed on the State Register of Historic Properties, the 1935 Alma School is a rare local example of Mission-style buildings. It now serves as Alma's Town Hall and is open to the public during regular business hours.
Also listed on the State Register, the 1936 Alma Community Church is a well preserved stone church of the Rustic Style.
The 1871 Clesson Cabin was one of the first permanent residences in Alma. Originally built as the Stagestop.
The Mosquito Range is graced with dozens of 19th Century mines that cling precariously to the steep slopes above each valley. It is also home to several rare plant species. Eighteen heritage sites west of Alma are interpreted in the Buckskin Gulch and Mosquito Pass historic auto tour brochures.
The Bristlecone Pine Scenic Area above Alma protects a stand of wind-sculpted bristlecone pine trees, some of which are nearly a thousand years old.
The 1894 Paris Mill, three miles west of Alma, was once an important site for processing precious metals. A Gold Arrastra in the same area, employed one man and his donkeys to grind gold-bearing ore.
The Magnolia Mill is a massive period structure at the inlet of Montgomery Reservoir near Alma. At the bottom of this reservoir lies the 1862 Montgomery town site.
The area offers hikers the opportunity to climb three Fourteeners in one day.
There is no legal access to the summit of Mt. Bross and it is closed to the public.