COMO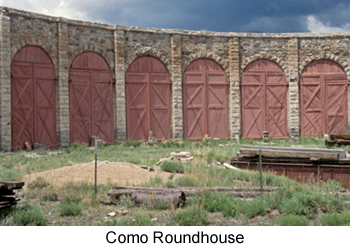 Named by Italian railroad workers for a town in the low mountains of Northern Italy, Como was once a bustling coal mining and railroad town. The tiny unincorporated town has 18 full-time residents, and the population doubles in the summer months as owners of the historic houses return to the cool weather of the high country.

Five of the buildings in Como, the school houses, the Como Hotel, the Como Depot and the Roundhouse are listed on the National Register of Historic Places and all are being carefully rehabilitated. A roadside exhibit at the south end of Como interprets the area's history. The narrow gauge railroad over Boreas Pass once carried goods and people between Como and Breckenridge and the rail bed has become a very popular drive for bicyclists and automobiles alike.

Mountain Man Gallery at 6th & Broadway in Como exhibits an eclectic collection of original paintings, prints, photos, sculptures and carvings by local and regional artists. Also on display are vintage model trains and railroad history books. Here visitors may obtain a free copy of the Como Historic Walking Tour brochure, and arrange a visit to the School Museum. Summer tours of the Como Hotel, Depot and Roundhouse can be arranged at the Como Hotel.

Other Heritage Sites: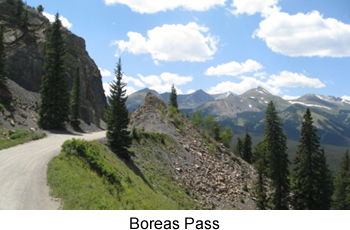 The 22-mile Boreas Pass Historic Auto Tour follows the old DSP&P Railway grade over Boreas Pass. Signposts along the road correspond to 12 interpretive sites. Exhibits at Boreas Pass Summit interpret the DSP&P "Highline Route" and other heritage sites. The 1882 Boreas Pass Section House and 1860's Wagon Cabin housed railroad workers on the DSP&P Highline Route. Listed on the National Register of Historic Places, these structures serve as a visitor center and museum during summer, and a backcountry ski hut during winter.

Roberts Cabin on Boreas Pass road near Como was originally a barn or stable. It was converted into a residence in the 1880s. The Forest Service now rents the building for use as a "Backcountry" hut. Call or visit the Fairplay Forest service for use of Hut and for additional information regarding the historic sites: 719-836-2031.