BAILEY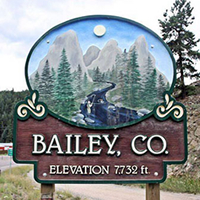 Founded in 1864 at an elevation of 7,739 feet
Located along the South Platte River canyon, the town of Bailey offers plenty of local history mixed with ample outdoor recreation.
One spot not to miss while visiting the Bailey area is Wellington Lake, offering outdoor fun for the whole family. Take a leisurely drive through the canyon to enjoy the beautiful scenery, or plan on a hike once you get there. The area allows for camping, swimming, catch and release fishing, mountain biking, picnicking and non motorized boating (kayaks, sail boats, canoes, paddle boats).
The area figured prominently in the early rush of prospectors to the gold fields of the South Park and beyond. In 1864, William Bailey established a ranch. He found that travelers needed a place to stop for the night before proceeding through the winding Platte Canyon into the high country. Bailey took over a tavern that was built by Henry Crow in 1861 and added lodging accommodations. The area became known as "Bailey's" - later it was shortened to Bailey. After running a profitable business for many years, Mr. Bailey sold his land and moved to California.
Several thousand Railroad bridges were built in America between 1840 and 1880. Among those that survived is Keystone Bridge at McGraw Park. Originally located down river, this bridge served the Denver, South Park, and Pacific Railroad and successor lines until the trains stopped running in 1937. Visitors to McGraw Park can enjoy crossing the old iron bridge and hiking a winding trail through the forest above the North Fork of the South Platte River. The area is a favorite of mountain bikers for its challenging trails.
Bailey's McGraw Historical Park features a number of early buildings from the area including the 1864 Entriken Cabin that belonged to Elizabeth Entriken, William Bailey's sister-in-law, who came west with them and her brother, the famous Father John Dyer. Entriken Cabin, with hand-hewn, squared logs, is listed on the Colorado Register of Historic Properties and it is the only surviving building from the original town of Bailey.
In 1878, Ed and Blanche McGraw bought land from William Bailey and built a general store. A successful businesswoman, Blanche continued running the store until her death in 1918. After serving many functions over the years, including a theater and hotel, it has operated as the Bailey Country Store for many years, but now is known as the Sasquatch Outpost.
In continuous use since being built in 1901, Glen Isle Resort is listed on the National Register of Historic Places. The resort was built on an old Indian camping ground. Even in the past years, Indian artifacts have been found on the property.