SHAWNEE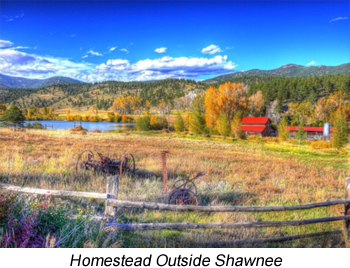 While the Platte Canyon had hosted travelers since the first wagon trains made their way up to South Park and beyond, the coming of the railroad triggered the emergence of lodges and resorts to provide relief for those escaping the bustle, dirt and heat of the Front Range cities. In 1900, the railroad built the Shawnee Lodge on land owned by William Price, who platted a town surrounding the lodge which took the name of Shawnee. Summer homes sprang up. Shawnee became a popular summer resort as the slow meandering river was great for fishing.

The local economy was tourism, ranching, farming, logging and winter jobs at the Maddox Ice Company which vanished with the railroad in 1937. The Shawnee Cemetery is 350 feet to the east.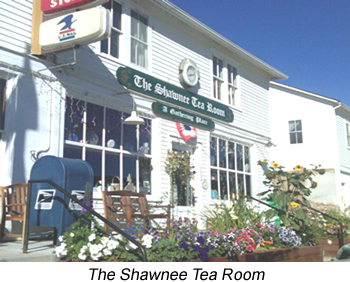 Since 1895, settler families of Tyler, Bonnifield and Price have been interred. Largely unchanged, the community is listed as a National Historic District and as a Park County Landmark District. Shawnee is a Historical District local and National Artists have been drawn to the area since its founding, and Vincent and Carolyn Tolpo create studio and custom art in the Shawnee Mountain Gallery in one of the historic buildings.

The Shawnee Branch of the Park County Historical Society meets on the 3rd Tues at the Shawnee Tea Room, next to the Post office in the 1900 historical building, formerly known as the Shawnee Store and the original Shawnee Mercantile. We currently have a web cam in downtown Shawnee. Some of the historical projects from the society include a walking tour of the Historical Homes. Cemetery clean up and enhancement, Historical Preservation, speakers, book signings, fundraisers and an annual Shawnee History Day held in May. Visit Park County Historical Society for more information.