GRANT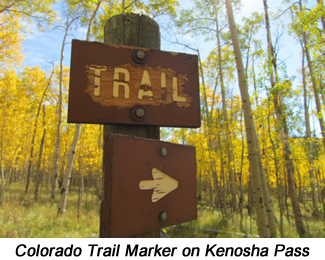 Founded in 1870 at an elevation of 8,606 feet.


The nearby Colorado Trail is Colorado's premier long-distance trail, stretching 486 miles from Denver to Durango. The route passes over the top of Kenosha Pass, amongst peaks with lakes, creeks, and diverse ecosystems.


Early ranchers in the Grant area opened up their homes to provide food and lodging for the thousands of gold and silver prospectors and early settlers passing through the area.


One such rancher was Charles Hepburn, who along with his wife Agnes Wood Hepburn, established the Kenosha House near the top of Kenosha Pass in 1865, as well as a stagecoach way station at their nearby ranch. In a trip through Park County in 1868, vice-presidential candidate Schuyler Colfax was their guest.


He, along with running mate, Ulysses S. Grant won the election later that year.


When a post office was established in the area in 1870, the Hepburns named the town Grant, after the President.


Once a thriving railroad stop, nearly all the original buildings of the early days are gone from Grant.


The Guanella Pass Road, between Grant and Georgetown in Clear Creek County, is designated a National Scenic Byway. The 22-mile-long paved route climbs above the tree line and dips into deep forests on both sides of the pass. Visitors can explore the road in passenger vehicles, on bycycles, or on foot from the numerous trailheads along the pass.